A SCHOOL WITH A LONG HISTORY
Since opening the doors to its first students in 1966, the International School of Genoa has deservedly earned a reputation as a caring community that strives to make learning a joyful experience. As well as seeking to develop the academic potential of each and every one of our students, our teachers are guided by the school mission statement which makes a clear commitment to our goal of inspiring a love of learning that extends beyond the walls of the school; to developing creative problem solvers who have the capacity to enact positive change, and who feel empowered to take action in their immediate and global environment.
A TALENTED AND COMMITTED STAFF
Our teachers believe in the importance of exploring and developing the personal, social and cognitive skills that our children will need to meet the challenges of a rapidly changing world.
As well as developing our students' academic potential, we seek to ensure that all pupils are equipped with the essential qualities of thoughtfulness, compassion, and respect for others; and that when each child leaves us they have developed a broad range of skills and confidence in their ability to perform in a wide variety of contexts.
A TRULY INTERNATIONAL EDUCATION
The International School of Genoa is striving to offer a truly international education, but recognises that this is not simply a question of having different nationalities in the school. Each and every one of our students, with their different backgrounds and experiences are recognised for who they are and for the unique qualities that they bring to the school.
The importance of the individual is enshrined within our curriculum, which is grounded in a belief in the value of a holistic approach to education, with a focus on inquiry based and conceptual learning. Within the Elementary School we offer the International Baccalaureate (IB) Primary Years Programme, while in the Secondary School we offer the IB Middle Years Programme from Grade 6 to 10, and the IB Diploma Programme at Grade 11 and 12. We believe these programmes prepare our students well for entry to universities around the world.
Extensive support is provided by the school to the ongoing development of English, Italian and other languages and is seen as an essential component of the programme and fundamental to unlocking the academic potential of our students. It is our belief that these programmes and the development of language skills will prepare our students well for the next stage of their education, wherever in the world they choose to pursue it. I think you will find our IB Diploma results and record of university admissions provide significant evidence of our success.
WE ARE HERE TO SUPPORT YOU
I hope that this website will give you a glimpse of the learning opportunities and challenges that the school can offer your child. Please do explore it thoroughly and I hope it will encourage you to visit the school during which, I'm sure, you'll gain a real sense of the commitment of our teachers and of the energy, the happiness and engagement in learning of our children. I'm sure that you will see why we are so proud of the children who define us, and who are the heartbeat of ISG.
I feel highly privileged to be a member of the community of the International School in Genoa and very much look forward to meeting you and your children in the near future.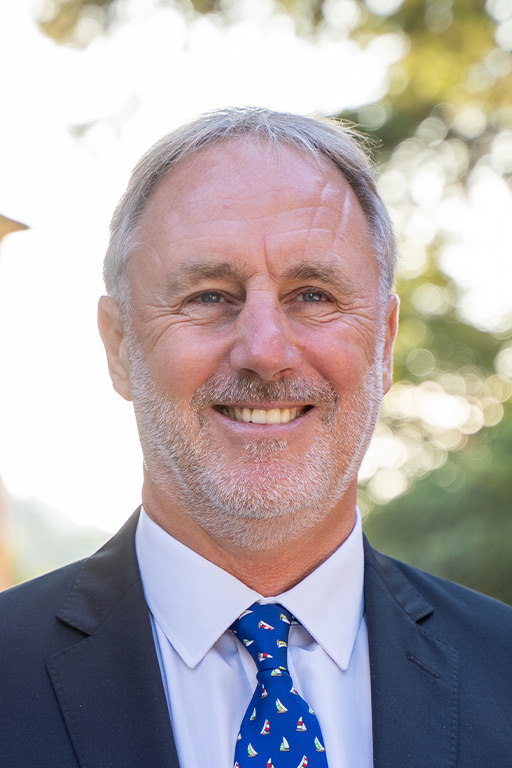 David holds an MA in Educational Leadership and Management from the University of Bath (UK) and a B.Ed. in Physical Education/History from the University of Exeter (UK). He has previously held leadership positions in the International School of London Qatar, the International School of Zug & Luzern (Switzerland), the International School of Amsterdam (The Netherlands) and the New International School of Thailand. He began his international teaching career many years ago in 1989, in the British International School of Cairo. He has previously served as the Chair of the IB Middle Years Programme (MYP) Committee, and has led IB evaluation and authorisation visits. He is also a trained Council of International Schools (CIS) and North Eastern Association of Schools and Colleges (NEASC) Evaluation Team Member.
David is married with three children, two of whom have graduated from the IB Diploma programme and have now graduated from University in England. His youngest daughter, Molly, is a Grade 12 student in ISG. He is a keen skier in the winter months and loves to sail in the summer.